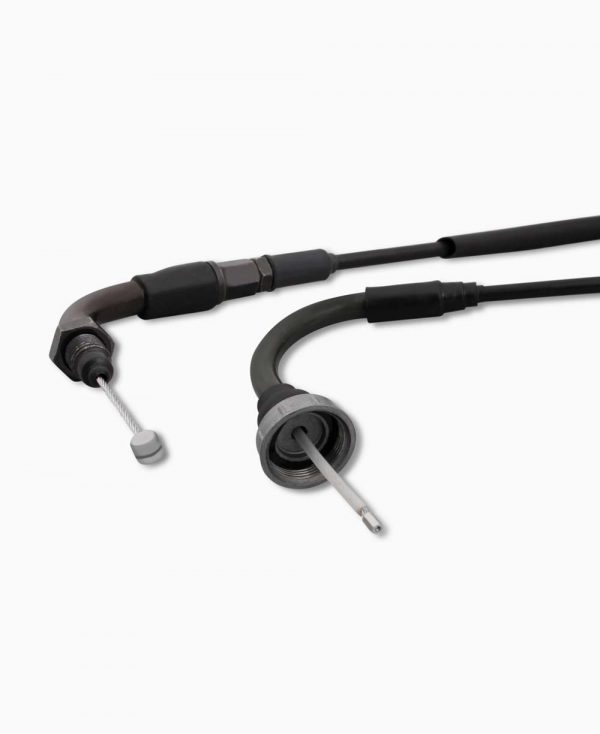 Accelerator Cables
Accelerator (throttle) cable connects the accelerator handle, pedal or lever to the throttle body allowing the driver to control vehicle's level of acceleration and speed. Silco Cables manufactures high-performance accelerator cables to give smooth and friction-free experience to protect against acceleration jerks and improving the life of accelerator cable. All cables are manufactured as per OEM specifications, 100% load tested and all materials have been certified to ensure they meet the required specification.
Description
Motorcycle Accelerator Cable: Control the Acceleration And Go Smooth
Are you a bike lover who enjoys speed riding? It is vital for a smooth, speedy ride that the speed and control on the road are in your hands. To ensure this smoothness in every ride you take on your motorcycle, the internals of the vehicle should be at its best. When talking about smoothness and control, the universal accelerator cable of the bike comes into the picture. To enter high speed from a standby position, the throttle accelerator cable activates the process.
Accelerator cables are a mechanical link between the accelerator handle, pedal, or the engine throttle body (located between the air filter box and the intake manifold). They help in managing the speed of the bike by releasing pressure on the accelerator pedal. When the driver pushes the pedal down, the action opens the throttle, which lets air and fuel enter the engine. Make more fuel and air enter the engine cylinders of your bike, which produces more power, and the bike moves faster. By using motorcycle accelerator cable, inlet glasses are restricted, which increases or decreases the engine's power. Bike accelerator cable gives the rider a smooth and friction-free riding experience.
There can be two throttles installed in your motorbike. Small bikes require only one throttle cable for acceleration and deceleration, whereas large bikes require two acceleration cables, one for acceleration and one for deceleration.
Silco brings you high-quality accelerator cables that can withstand and manage high speed on rough roads easily. Silco manufactures the best accelerator cables of the best quality you can rely on. Get the accelerator cables according to your requirements from the best dealers near you. Our cables are friction resistant and pre-lubricated for smooth functioning.
Quick Glance At the USP of Silco Cables
Friction Free Performance
Pre-lubricated with 1000 Grade Silicon Oil
Smoother Performance in Tough Conditions
Inner Wires- High Tensile Strength
Well constructed and Fine Finish
Fitment Accuracy
Corrosion Resistant
Thermal Stability
Durable, Flexible, Robust
Benefits of a Good Bike Accelerator Cable
Acceleration cables let you have a smooth experience of stop and start at traffic and junctions, and a smooth speed pick up as required.
You can manage your adjustments manually, unlike Drive-by-wire. Also, they are affordable and easy-to-maintain.
With acceleration cables, we make it easier for you to shut the power—no more fighting with the brakes.
Accelerator cables are cost-effective than drive-by-wire features, and it is more safe to use.
If the accelerator cable is faulty or doesn't work correctly, the acceleration function might hamper, or there will be no acceleration at all, which will keep you from riding. To get back in motion and on the road, buy an accelerator cable that is of high-quality and a perfect match for your bike's specifications.
The throttle accelerator cable creates a better harmony between the throttle angle, fuel, and ignition. It creates more power, also, better utilization of variable valve timing.
Beat the lag that you experience after a high-speed bike ride. Our specially designed bike accelerator cable for high-speed bike models fulfills the purpose of bike lovers. Every your ride to the fullest in full speed or on challenging roads.
Why Can Silco Be Your Best Choice for Motorcycle Accelerator Cable?
With more than fifteen years of experience, Silco is a renowned universal accelerator cable manufacturer. For the perfect control on the road, silco can help and know why:
Can't find the bike accelerator cable you want? Don't worry! Order, and we will get it customized as per your needs. Now get a custom accelerator cable at Silco made with safety and quality being the priority.
We are quality and safety-driven throttle accelerator cable manufacturers and suppliers. The cables manufactured at Silco meet many layers of quality check before the final approval. Also, our cables go through certain tests before the final approval.
We only use supreme quality raw materials from the best suppliers in the market to eliminate the risk of flaw in our final goods.
The latest technology we use ensures maximum efficiency, quality, and long-life of the cables/wire we manufacture. Our methods, techniques, and processes are under monitoring to upgrade wherever possible.
Our dedicated team of experts has made us earn the title of leading manufacturer and supplier of high performance cables and wires in India.
We strive each day to fulfill and satisfy the automobiles needs of our customers.
All the cables that we manufacture are as per OEM specifications, and 100% load tested. We are an ISO 9001:2005 certified company.
For the quality we offer, our charges are nominal.
Our ultimate testimonial is our fifteen years of strong hold in the market, and we have millions of happy clients at the peak of our capabilities. If you plan to change your bike's universal accelerator cable and look for high-quality, affordable cables, try Silco Cables. Quality is our priority!