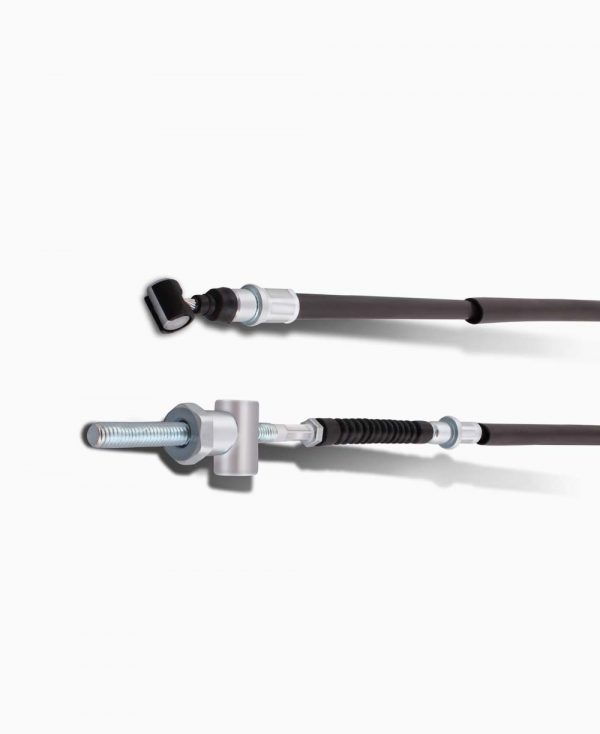 Brake Cables
A brake is a mechanical device that inhibits motion by absorbing energy from a moving system. Brakes are critical for slowing or stopping a moving vehicle, wheel, axle, or to prevent its motion, most often accomplished by means of friction. Brake cable connects a brake handle, pedal, or lever to a vehicle's braking mechanism. Hence brake cables are very important for smooth and accurate application of brakes. Silco brake cable delivers strength, control and confidence to the driver. We always recommend users to do checkup at regular intervals and change over time to prevent risk of breakage. All cables are manufactured as per OEM specifications, 100% load tested and all materials have been certified to ensure they meet the required specification.
Description
Brake Cables: Take Complete Command Of Your Bike On-Road
When you need the outstanding stopping power, a smooth modulation, and when you want your wheels never to rub the wrong way, make sure that the brakes of your vehicle are at their best. The Brake cables of your vehicle decide the degree of the smoothness and response of its stopping power. So for your controls to work better and for longer, choose Silco for high-quality bike brake cables. Silco motorcycle brake cables deliver strength, control, and confidence to the rider.
Brake mechanism and what is a brake cable? A brake or brake cable is a mechanical device that joins a brake handle, pedal, and lever to the bike's braking system. Brake cable wire impedes the vehicle's motion by arresting energy from it's moving system. By means of friction, brakes slow or stop a moving vehicle, wheel, axe, or in all, stop or slow down the motion. Therefore, for this brake system to be on point, the vehicle's brake mechanism must include branded, high-quality brake cables. So, whether you are an avid bike rider or someone who wants to get back to riding on his bike left idle for years, go with a brand new brake cable from Silco and feel confident with better brake efficiency. The inner wire of brake cables manufactured at Silco is made of twisted strands of steel, and the outer body is made up of flexible steel. These Motorcycle brake cables are flexible and robust enough to withstand forces applied under braking.
The brake cables that are best for your bike depend upon various factors like the bike model you have, the height of the wheel, the height of the tire, and the break's resistance. Silco offers a full range of bike brake cables, an ideal solution for every rider's needs. Also, for your needs not covered in the catalog, we offer customized services as well. You can order your custom brake cables, too, and we will design it for you.
Quick Glance At The USP of Silco Brake Cables
Friction Free Performance
Pre-lubricated with 1000 Grade Silicon Oil
Smoother Performance in Tough Conditions
Inner Wires- High Tensile Strength
Fitment Accuracy
Durbale
Flexible, Bendable
Corrosion Resistant
Water-Proof
Thermal Stability
Our cables undergo the following tests before approval.
Life Cycle
Proof Load
Torque
Performance
Tensile
Flickering
Strength
Importance Of A Good Brake Cable Wire
Using a brake cable that is not constructed correctly can cause losing hold of your vehicle. To ensure safety and eliminate the risk of accidents, it's critical to trust a reliable brand for an essential part of your vehicle that guarantees quality and safety.
For all those speed breakers in the way hampering your smooth riding experience, good bike brake cables are the answer. Say goodbye to all the jerks when applied brake.
For your riding journey on rough terrains, braided brake cables wires will be your specialist for tough road conditions. Journey on such conditions might require the brakes to work double than its efficiency. In comparison with standard cables, they have only a few wires and can bend easily and do not become loose.
To conclude, quality bike brake cables ensure smooth riding experiences.
Why Can Silco Be Your Best Choice for Brake Cables?
We are an ISO 9001:2005 certified company and have several happy clients at the peak of our capabilities. Benefits of choosing Silco includes:
We are accuracy and perfection driven bike brake cables manufacturers and suppliers. Rest assured, we offer the products at the best price possible. 
Our manufacturing process involves a four-stage inspection of the cables we produce. 
We only use high-quality tested raw materials and the latest technology for production. On top of that, our processes and techniques are monitored continuously for better quality products and the use of up-to-date technology. All the cables that we manufacture are as per OEM specifications, and 100% load tested.
We take pride in our systematic approach to advance quality formation, which ensures that each brake cable wire is designed to achieve the industry's safety standards.
For all your personalized cable needs, contact us. We design your needs!
We guarantee reliable performance, long durable life, and stunning functionality.
Our very hardworking team of professionals work day and night to reach the company's goals and the demand of the customers.
We deliver the order on time in durable and tamper-proof material. 
We have successfully set our standards as the most reliable and prominent brake cables manufacturer in India. With more than fifteen years of experience, Silco is a renowned cable manufacturer, with safety and design being the primary focus.

Our driving forces are excellence, commitment, teamwork, growth, and dedication. So, if it's time to change your old and worn out brake cable or you are looking to buy a reliable and brand new motorcycle brake cable, Trust Silco!