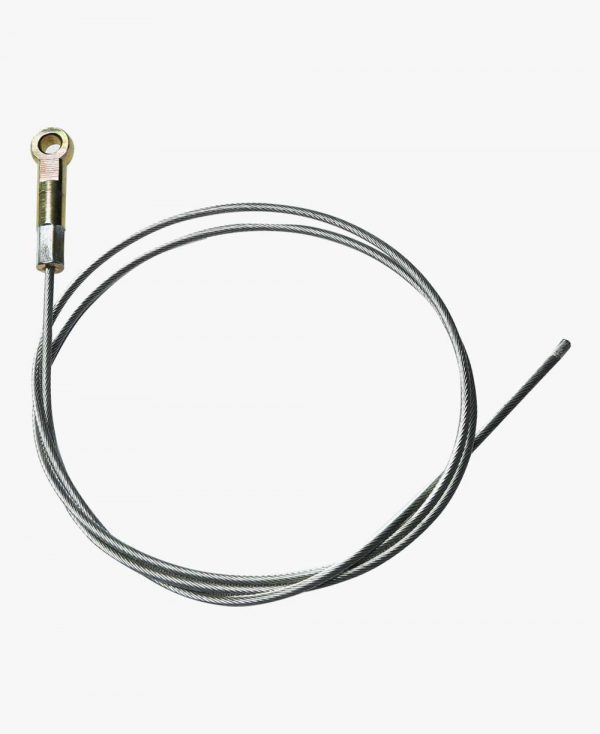 Brake Wires
Silco Cables manufactures heavy duty brake wires for Vespa, Lambretta, Bajaj and LML.
Description
Brake Wires For a Safe Ride
Vehicles are loaded with excellent features to give the best results in speed, smoothness while on the road, and an experience of sheer joy. Such vehicles that are meant to run at high speeds should be able to come to a halt as and when required smoothly. The rider and the companion/passengers' safety depends majorly on its brake functioning and the condition of the brake wire responsible for efficient brake functionality. Therefore, the condition and quality of brake wires must be in the best, prime condition.
For heavy-duty brake wires for Vespa, Lambretta, Bajaj, and LML, trust Silco Cables. Take into consideration the following factors like height of wheel, tire, model, and break resistance before you settle down with the wire for your asset. These companies are regularly engaged with upgrading their vehicle's features, and so is Silco in meeting the demand of every vehicle owner with the wires and cables required for a smooth operation. Meeting the application demands of these vehicles, let the brake wire function efficiently. Get a fantastic halt response and smooth modulation whenever on the road with full swing.

Benefits of a GOOD Brake Wire
Stay smooth on rough off-road and say Goodbye to Jerks. To leave behind all the speed-breakers smoothly, you need specially designed brake wires of Silco. 
Wear and tear can unexpectedly cause the wire to break or loose, which might not be a very favorable condition when riding. To avoid such situations, a brake wire made to bend easily, flexible, and is made of premium quality material to delay wear and tear is the answer. 
When you are at your best, it gives you confidence. Likewise, when every part of your vehicle, especially the wires handling the internal mechanism, is of amazing quality, it gives you confidence and a fear-free riding experience.  
A supreme quality cable/wire is a one-time pocket-friendly investment with an amazing return. Easy to maintain, and it is not required to change them frequently. Trying to save on something which needs a good investment is a false economy. Hence, invest in good quality cables and wires of Silco because it is worth it. 
To never let your tire rub the wrong way, ensure that your vehicle braking mechanics is loaded with the right kind of brake system with each and every part well constructed.
To ensure the supreme quality of the finished product, it is vital that the quality of finished raw-material is as per the standard set. For the brake mechanics of a feature-packed vehicle to be accordingly, the brake wires and cables supporting it should be equally efficient.
To conclude, keeping all the above-mentioned parameters on the list, Silco comes out with the best ONLY.
Quick Glance At The USP Of Silco Brake Wires
Robust Tensile Strength
Highly Durable
Friction Free as they are manufactured using friction-reducing coatings
Pre-lubricated with 1000 Grade Silicon Oil
High-Quality materials used make the wire corrosion resistant
Friction-Free Performance
Innovative design as per the bike's specifications
Water-Proof Wire
Light In Weight
Excellent Packaging Quality
Easy Maintenance
Flexible and Durable
They are in accordance with international industrial guidelines
Why Can Silco Be Your Best Choice For Brake Wires?
We are an ISO 9001:2005 certified company, meaning quality, system, management, efficiency, safety, process, etc., meets the standards set. We every time strive to go beyond our limits to make your life risk-free. Further, know why Silco is your best choice: 
Each cable/wire manufactured at our modern equipped production unit by very skilled professionals is as per the OEM specifications. 
We meet every quality parameter set by the industry as the raw materials we use, in the perfect ratio, are tested, verified, and are supplied by the certified vendors of the market. 
Based on the application of the wire, wires manufactured at Silco are put to endurance, snag, tensile, and break load test before the final approval.
Taking into consideration the needs of each and every customer, our range of brake wires includes a plethora of options that cover wires in many distinct specifications like size, use, fit, thickness, weight, etc. Also, for the portion of customers who cannot find the wire they need on our product list, drop in the specifications, and we will get it customized for you. Get your custom brake wires of supreme quality at the most affordable price.
Not only Silco's quality of wires attracts the customers, but also our effective pricing policy is the icing on the cake. Our rates are very nominal against the quality we offer.

Silco Cables is one of the best manufacturers and suppliers of Automotive control cables/wires in India with excellence and commitment being our driving forces. We believe that the combination of safety and design is the heart of any machine. Be it a two-wheeler or three-wheeler, for all your vehicle's cables and wires need, Trust Silco. If you wish to change your old and worn out brake wire, buy it from Silco today!