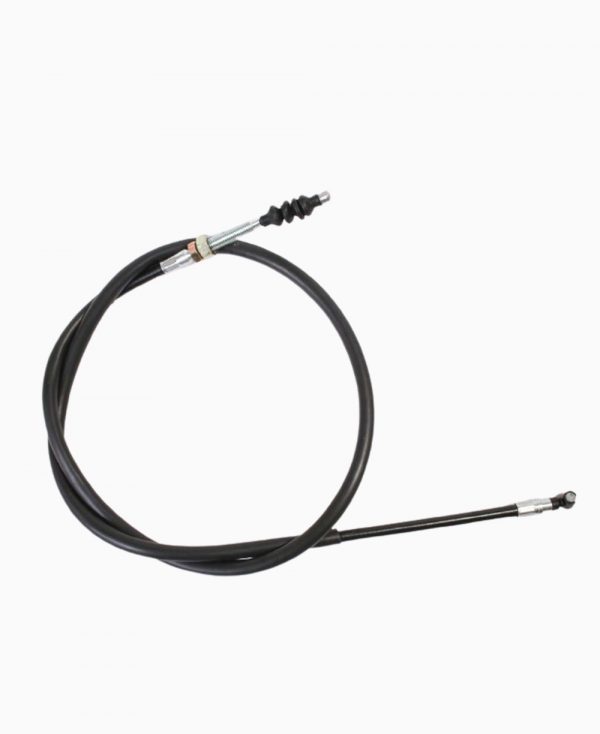 Clutch Cables
Automobiles with manual transmissions require clutch cable which connects the clutch lever to the clutch itself is what disengages the clutch when the lever is depressed. Silco Cables offer the best quality clutch cables which are strong, durable, self-lubricating, and easy to adjust to give friction free and smooth performance. All cables are manufactured as per OEM specifications, 100% load tested and all materials have been certified to ensure they meet the required specification.
Description
Bike Clutch Cable
Do you own a manual transmission two-wheeler or three-wheeler? Well, then you must have a vague idea of all the cables and wires functioning internally to give you a smooth and risk-free riding experience. When on the road on your motorcycle, switching gears is one of the functions that need to run smoothly. In that regard, the motorcycle clutch cable's quality must be on par and in accordance with the specifications of the vehicle you own. Silco, the leading manufacturer of control cables in India, works day and night to meet the industry standards set to set you in motion with confidence and style. You can rely on the Clutch Cables we manufacture. We have a hardworking team of very skilled professionals to manage and perform the production process. Right from purchasing raw materials to the final product, we do not entertain any leniency.
What is Motorcycle Clutch Cable, Its Function, and Benefits?
A motorcycle clutch cable is a cable wire (steel braided), a connection through which the biker's input passes to the clutch's internals. With the clutch cable's help, the clutch connects the clutch pedal with the engine responsible for shifting gears. When the rider presses the clutch lever, the clutch cable pulls on the clutch linkage that disengages the clutch to shift the transmission. This enables switching of the gears and, as a result, speed.
A faulty clutch cable can keep you from riding as it will hamper the overall driveability with the loss of power of shifting the vehicle. A faulty or worn-out clutch cable needs to be replaced with a new one, and Silco is your rescue destination. Our range covers automotive control cables for all of the above-mentioned vehicles, from motorcycles, scooters, three-wheelers, commercial vehicles, and electric bikes.
Keeping every two-wheeler and three-wheeler specifications in mind, Silco deals with cable and wires. We ensure fitment accuracy. For , It is vital that the motorbike clutch cables are properly installed to let the clutch effectively disengage the clutch disc when depressed.
A good quality clutch wire is easy on your pocket, along with providing high performance. You don't have to worry about changing them frequently.
Quick Glance on the USP of Silco Cables
Long-Lasting
Pliable
Provide very smooth release
Robust
Thermal Stability, Corrosion, Dust Resistant
Very Affordable against the quality we offer
Easy installation and low maintenance
Thoroughly tested to meet your requirements
Dust and damage resistant
Pre Lubricated cables
The range of cables we offer takes into consideration every customer with their specific needs of automobiles cables and wires
Our high-quality cables and wires ensure smooth performance in harsh conditions.
Why Can Silco Be Your Best Choice For Motorcycle Clutch Cable?
We are an ISO 9001:2005 certified company. Meaning meeting and fulfilling all the benchmarks set. Our customers and clients can completely rely on us for quality.
Backed by fifteen years of experience in manufacturing and supplying automotive control cables in India, Silco takes pride in offering a wide range of premium quality universal clutch cables that are robust, long-lasting, self-lubricating, and easy to adjust.
All the motorcycle clutch cablesthat we manufacture are as per OEM specifications.
Before the final approval, we put all our cables on a load test. Every cable we produce is 100% load tested.
Only certified raw-materials are used for manufacturing cables for better efficiency and better performance. To eliminate the risk of the flaw in the final product, we buy raw materials from the certified vendors of the market.
To ensure maximum efficiency and longevity of the cables we manufacture, we inculcate the latest technology in our production process. Our methods, techniques, and processes in our modern production unit are always under monitoring to upgrade wherever possible.
Our prime focuses are quality, technology, resourcefulness, and innovation, which are evident in our final products.
For your cable requirements not there on the product catalog, get your custom clutch cable made. Connect and tell your cable requirements like longer than usual or replica of your original clutch cable, and our hardworking team of engineers will design it for you. Whether your dream project or cables for your bike you can't find, Silco has something for everyone. You can even customize the color to add a splash of style with no additional charges.
We have an equally efficient stock management system for fulfilling the demands of our customers, both bulk and single piece.
The final product of high-quality is not our end goal. We make sure to display our efficiency in the packaging too that reaches our clients. The packaging is such to make it travel-friendly and safe.
With thousands of satisfied customers all over India at the peak of our capabilities, we are here for your risk-free and smooth biking experience. Trust our two meters of production and get back to motion. Buy a universal clutch cable of Silco today!