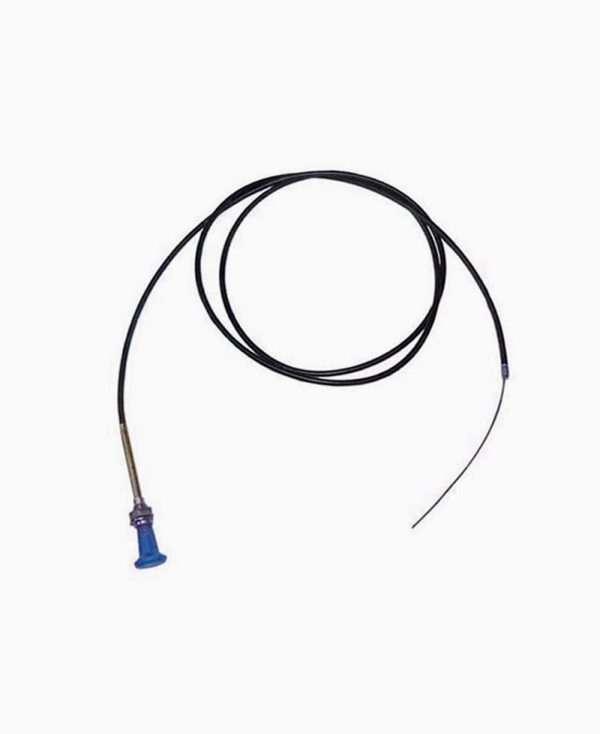 Engine Stop Cables
Engine stop cables are designed to stop an active engine to in its inactive mode of operation. Silco Cables offer best quality engine stop cables which are manufactured as per OEM specifications, 100% load tested and all materials have been certified to ensure they meet the required specification.
Description
Engine Stop Cable
Cables and wires are often treated and considered a not-so-important part of a vehicle that needs to be maintained well and is as good as its other parts. But the fact is, for the long-lasting overall performance of any vehicle, it is vital that the quality of cables is at par and the installation is correct. They are a direct link responsible for passing the driver's input to the system to work as instructed. One such cable that is important when we talk about the overall functioning of a LCV(Light commercial vehicle), HCV (Heavy commercial vehicle) , agricultural machinery and heavy machinery like Genset etc. is the Engine Stop Cable.
Engine stop cable is a specially designed automotive control cable whose function is to bring an active engine to a halt/stop in its inactive mode of operation. For the emergency need which requires to switch off the engine or cut the power supply to the engine, the use of these cables cannot be underestimated. They come with an Engine Stop Switch, Push Pull Knob or a T handle. They are available in various lengths, which is easy to cut short as per the requirement. The inner part of the cable is a single solid wire as well as multiple strand wire and the outer housing is as per customer's requirement. You can even get bespoke cables for your special needs if required and get them customized as per your details.
For the bulk as well as individual need, we are stocked efficiently to fulfill the demands of our client whenever required. Order or get it custom made. We never compromise on quality at any point in time.
Not only should your vehicle be efficiently equipped to be in motion. It should be equally efficient to come to rest as and when required.

Benefits of GOOD Engine Stop Cables
Easy on your pockets: A good quality cable saves you from the trouble of changing them frequently, which, as a result, becomes a good long-term investment.
Ensures the high-performance of the final product: For the engine of any vehicle, be it two, three, or four wheelers, to work perfectly and effectively, the finished raw material to support its functionality should be as per the specification and should be well-constructed. In that case, the importance of an efficient engine stop cable cannot be undermined.

Quick Glance at the USP of Silco Engine Stop Cables
Effective in carrying the current load
Smoother Performance in Tough Conditions. Well-constructed to work effectively even in the non-favorable conditions on the road
Flexible and Durable. Doesn't break when made to work tirelessly
Fitment Accuracy
Amazing Tensile Strength
Affordable and easy to maintain
Fine Finish
Coated cables for double protection
Undergo various tests to ensure efficiency and effectiveness in performance
They are in accordance with international industrial guidelines
Pre Lubricated cables with Silicon oil and grease 
Friction Free Technology
Water-Proof Wire and Scratch, Corrosion Resistant
With the satisfaction of quality of the internal parts of your vehicle at its best, go smooth on the road.

Why Can Silco Be Your Best Choice For Engine Stop Cables?
Trusted for over fifteen plus years for automotive control cables by millions of satisfied customers all over the world, Silco is dedicated to making riding experiences great by offering a range of cables and wires of top quality to fit your requirements. We are an ISO 9001:2005 certified company best for all your automotive needs because:
We inculcate the latest technology in our production process, which keeps on updating as and when required. 
Our systematic approach to advanced quality formation makes sure that each cable is designed to achieve the industry's performance parameters and safety standards.
We use only tested raw materials supplied from the best vendors in the market. It eliminates the chances of a flaw in the final product produced using our finished raw material. 
We assure quality as our engine stop cables go through various tests before final approval like Life Cycle, Proof Load, Torque, Performance, Tensile, Flickering, and Strength. Also, our manufacturing process involves a four-stage inspection of the cables we produce. 
Each day we strive to perform better and better, and with the motive of customer satisfaction, Silco Control Cables eyes on delivering cutting-edge technology that reduces the workload from the lives of every vehicle owner.
For your customized engine stop cable needs not there in the product list, let Silco design it for you! Connect and tell the specifications. Get your customized engine stop cable within the time frame mentioned.
Considering the needs of every customer, our range of precision-engineered engine stop cables cover cables in a multitude of specifications.

Want to buy an engine stop cable for your vehicle that will last long? Buy one from Silco. We are sure to meet the expectations of our clients in terms of quality and quantity, both.