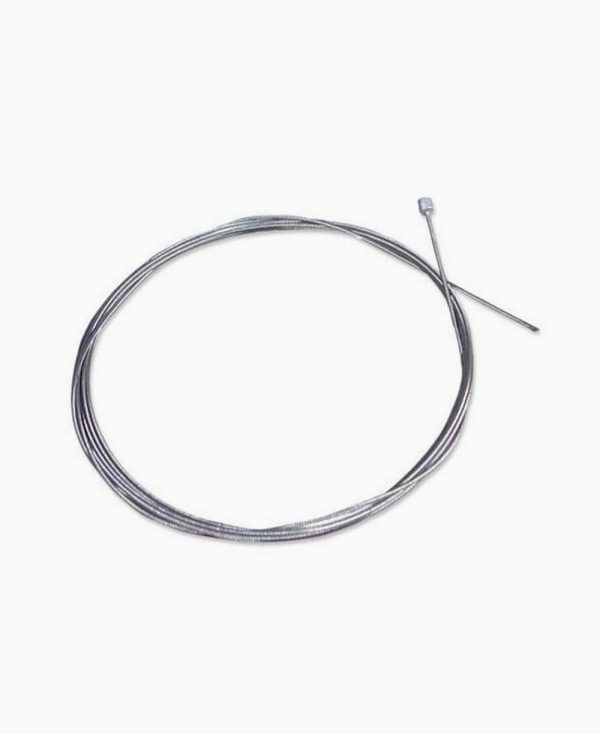 Gear Wires
Silco Cables manufactures strong and durable gear wires for TVS king, Piaggio Ape, Mahindra Alfa, Atul Shakti and all models of Bajaj three wheelers including Bajaj 3W 175cc/ 225cc/ Compact 2S/ Compact 4S/ Optima
Description
Gear Wires: Change Your Speed And Go Smooth
How about riding your bike or motorcycle or scooty, or be it any vehicle at one constant speed? No fun, right! It can be risky too. Shifting gears and controlling the speed while riding is one of the vital functions of a vehicle that cannot be compromised with. This mechanics is supported by certain control wires and cables fitted inside that transfers mechanical information within the system. Be it a chain, pedal, wire, cable, lever, or any part responsible for handling this function; it should be well-maintained, well-constructed, and well-fitted. The quality is also very important to ensure durability and efficiency. Gear wires are required in both manuals as well as automatic vehicles.
Silco Cables manufactures and supplies strong and durable gear wires for TVS king, Piaggio Ape, Mahindra Alfa, Atul Shakti, and all models of Bajaj three-wheelers, including Bajaj 3W 175cc/ 225cc/ Compact 2S/ Compact 4S/ Optima. Our range of gear wires will include all the gear wires for the above-mentioned vehicles or models according to the specifications for fitment and application accuracy. For your specialized and bespoke cables and wires, we are equally ready. We design customized cables/wires too. You just have to connect with our experts, drop in the details, and get it delivered to you within the stipulated time, just like you want.
We are sufficiently stocked up for both industrial bulks as well as the individual needs of our clients. Your control cable specialist, get it from Silco whenever you want. Also, you pay less for the best when you choose us!
Benefits Of A Good, Supreme Quality Gear Wire
Let's start with a very basic function. Change your gears from low speed to high and vice versa smoothly and quickly. Even when you are enjoying your ride in not-so-good road conditions, these cables and wires will ensure to give you a smooth and easy shifting experience.
For the gear system of any given vehicle to work at it's best, it is vital that the finished raw material (gear wire here) should be equally efficient and should be in accordance with the specifications of that very vehicle. It ensures the efficiency and performance of the final product, be it a bike, scooter, scooty, commercial vehicle, etc.
When you buy a branded, high-quality, and durable gear wire, you save yourself from the future investment and trouble of changing these wires frequently. Also, you can enjoy every ride you take on your vehicle with confidence and sheer joy.
Are you one of those cyclists who are tired of changing the chain of your bike frequently and are irritated with putting back your chain every time you are off roads or on some tough roads? Well, a good gear bike is the deal for you. Install it and ensure a long and safe life of your chain.
Quick Glance At The USP Of Silco Gear Wires
Amazing Tensile Strength
Long-Lasting
Pre-lubricated with 1000 Grade Silicon Oil
High-Quality materials (Steel and Rubber) used to make the wire corrosion resistant
Friction-Free Performance
Well-Constructed, Fine Finish
Water-Proof Wire
Light In Weight
Excellent Packaging Quality
Easy Maintenance
Flexible, Bendable
Thermal Stability
Rust-resistant
Abrasion-proof
Damage-resistant
Why Can Silco Be Your Best Choice For Bike Gear Wires?
We are an ISO 9001:2005 certified company, meaning our standards and quality are globally recognized. Cables/Wires we manufacture meet the international industry guidelines set. 
Gear wires manufactured at our modern equipped production unit are as per the OEM specifications. 
The combination of our very skilled professionals' hard work, tested raw material from the certified vendors of the market, and the latest technology ensures the supreme quality of the wires best for automobile operation. 
Based on the wire's application, all our wires are 100% tested before the final approval. 
Our systematic approach to advanced quality formation makes sure that each cable is designed to achieve the industry's performance parameters and safety standards.
Taking into consideration the needs of each and every customer, our range of gear wiresincludes a plethora of options that covers clutch wire in many distinct specifications like size, use, fit, thickness, weight, etc. 
Our prime focuses are quality, technology, resourcefulness, and innovation, which are evident in our final products. 
The box of our checklist of the industry-standard parameters of bike gear wires always has a tick in it. 
Silco Control Cables eyes on delivering cutting-edge technology that reduces the workload from the lives of every vehicle owner.
With a strong and successful hold in this market for more than fifteen years now, we have left no stone unturned to provide our customers with only the best they deserve at the best price possible. So, if you are planning to buy a new and long-lasting bike gear wire for your asset, Trust Silco! The sheer joy of riding is now just a few clicks away.