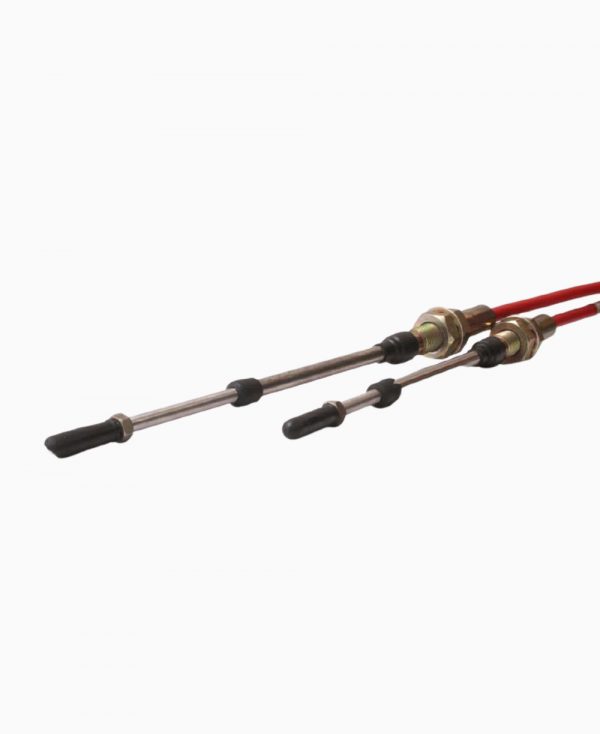 Pull-Push Cables
Push pull cables are used to provide push and pull a mechanism on the opposite end. They have applications in industries like automobiles, maritime vehicles, and commercial vehicles, small and heavy industrial machinery. Silco Cables offer best quality push pull cables which are manufactured as per OEM specifications, 100% load tested and all materials have been certified to ensure they meet the required specification
Description
Push-Push Cables
In general, push Pull control cables are mechanical devices specially designed for automobiles and other industrial uses like in small and heavy machinery, commercial vehicles, maritime vehicles, etc., to positively and precisely transfer the mechanical motion within the given system.
Specifically for manual automobiles, push pull throttle cable is a dual (push and pull mechanics) heavy-duty cable. The pull cable is designed to perform the action of opening the throttle plates of a vehicle, whereas the push cable combining its efforts with the throttle return spring closes the throttle plates. Hence, the combination of spring, push cable, and pull cable operates to provide the mechanical energy required to run a mechanical system smoothly.
From scooters to feature-packed bikes like Harleys, every vehicle today comes with dual cables called a push pull choke cable. These provide extra protection to the rider when on the road.
Silco, one of the leading push pull cable manufacturers of these high-quality control cables, offers a full range of push pull cable levers to fit every rider's requirements. If you can't find the type you need in our range list, you can order and get a custom push pull cable for your vehicle's specific needs. Just connect with our experts, drop in the details, and we will design it for you exactly how you wanted.
Benefits of Good and Supreme Quality Push Pull Control Cables
In some conditions, the engine of a vehicle can create a vacuum that can result in the sticking of the carb slide. The aftermath can be a run-away of the vehicle. Well, in that case, if the single throttle cable is unable to push and shut the throttle down, the pull cable comes to the rescue and shuts the throttle.
If the single cable throttle doesn't behave like it is intended to do (technically), failure of control of linkage, it is a good idea to have a throttle cable with two cables. This provides double safety to the rider. It is a 2.0 version of the old single throttle cable.
In case the push throttle cable fails, in some conditions, return spring is an ideal solution. Still, if return spring snaps, dust, and dust accumulate inside the throttle tube, cables lose lubrication, etc., the vehicle can fail any minute, and a backup like a cable push pull can work for you.
The quality of finished raw-material decides the quality of the finished product. For the throttle operation mechanics of a vehicle to work at its best, push pull cables supporting it must be equally efficient.
Quick Glance at the USP of Push Pull Cables
Ease of installation and easy to maintain
Great Tensile Strength
Water-Proof Cable
Flexible: Can bend as per the requirements
The range of push pull throttle cables we offer is specifically designed according to the model it will be installed in. It gives fitment and application accuracy.
Friction Free Technology
Economical
Coated Cables for extra protection
Robust
Thermal Stability
Pre Lubricated cables with 1000 Grade Silicon Oil
It is made of good quality stainless steel. This ensures longevity and makes it corrosion, scratch-resistant.
Fine Finish
Well-constructed
Safety from Moisture, dust, and dirt
Why Can Silco Be Your Best Choice For Push Pull Cables?
We are an ISO 9001:2005 certified company and have several happy clients at the peak of our capabilities.
We are both quantity and quality-driven push pull cable suppliers In India, ranking in the top five. The cables/wires manufactured at Silco in the modern equipped production unit meet many layers of tests as per the application like Life Cycle, Proof Load, Torque, Performance, Tensile, Flickering, and Strength before releasing them in the market.
Our manufacturing process involves a four-stage inspection of the cables we produce.
We only use tested and certified raw materials supplied by the most reliable vendors of the market. Our quality check starts from the very first step of buying raw material to eliminate the risk of a flaw in the final product.
We use the latest technology for production, which keeps on upgrading as and when required. We guarantee reliable performance, long durable life, and stunning functionality of heavy-duty push pull cable.
Our very skilled team of professionals work day and night to reach the company's goals and the demand of the customers.
For bulk industry universal push pull cables needs and individual cable push pull requirements, we manufacture enough and have enough stock to fulfill the demands of our clients wherever required.
We are amongst the reliable brands of push pull cables manufacturers in India because our products match the international industry standards set.
Our ultimate testimonial is more than fifteen years of successful hold in the market in the field of cables/wire manufacturing. We take pride in delivering push pull cables of supreme quality in the most nominal price. For all your control cables and wires need, Trust Silco Cables!